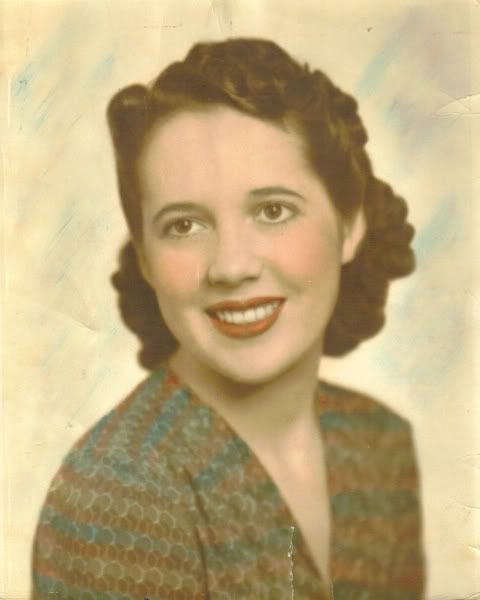 My Mother…..
My mother came from a very poor family, who lived through the Great Depression and many other hardships along the way.
She always talked about sharing shoes and clothes, walking long distances to school, and not having enough food to eat.
But she was the best Mom to me, and my 4 siblings, me being the youngest.
My Father was killed when I was 6 and she carried on the best she could. She worked at home doing invisible re-weaving, a self-taught procedure that was in pretty high demand. Along with that, she worked at J.C.Penneys, then a slack manufacturing company here, and then at Kmart, where she was a wonderful assistant manager of the appliance department and she loved her job.
I was the last left at home and we got by pretty good. Once I married, Mom was my constant friend and companion, always sharing in the ups and downs of motherhood with my 3 children. She always listened intently to my stories, laughed and cried with me, and offered her best advice, or just a shoulder. I always marveled over how she always knew just what to say.
With my last child, we shopped together and had many lunches full of chat and love. I couldn't have done it without her.
She was always a very loving, kind hearted person, never meeting a stranger, and never hesitating to give what little she had to someone in need.
As she aged, I saw changes in her and knew she was slipping away to Dementia.
She lived with me for about a year and then we placed her in a nursing home.
She's surprised every doctor, many times with her determination to go on.
She turned 90 on Jan. 19. She hardly has any gray hair!
She just got out of the hospital with a mild case of pneumonia but her oxygen is low, and she can't swallow food or water.
I've been trying to come to terms with the thought of losing her for a long time, but it never quite takes. I don't know what I will do without her in my life, except remember all the kind things she said and did and what an impression she made in my life and many others'.
On Feb. 19, 2009, they called me from the nursing home to tell me that Mother was near the end.
We gathered at her bedside and I saw her take her last breath.
I can't believe the emotions I have gone through and I feel so alone.
I have a wonderful family all around me and I know that live will go on and everyday I will remember something my Mother shared with me.
I wanted to share my story because for those of you who have your parents, you are lucky. Please enjoy them, be patient with them, and spend time with them before they're gone.
Today God has in his presence in heaven, Lola Phillips Boon, one of his very best creations.